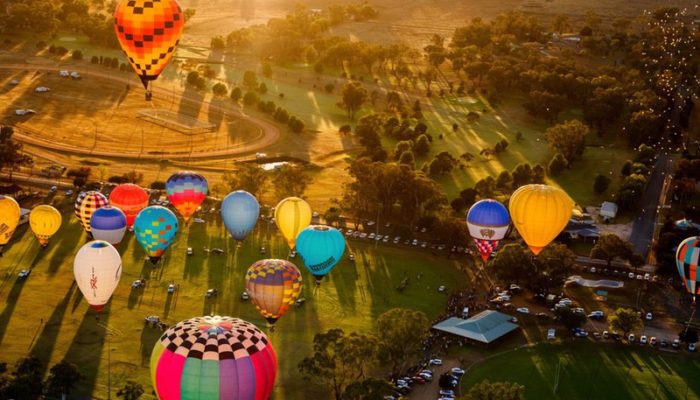 Girragirra is the perfect place to base yourself for a search and discovery mission around the quite fabulous Central West of NSW. In the words of Central NSW Tourism, bring your boots, appetite and curiosity and unearth something special.
Parkes:
Head 30 minutes north and visit our friendly neighbours Parkes. where you'll find the CSIRO radio telescope, famous world wide for beaming back images of man's first steps on the moon. Affectionately known as The Dish, it was the star of the best Australian movie ever called strangely enough "The Dish" and  featuring the quite magnificent heritage buildings of … Forbes!
The Parkes Elvis Festival turns us all into lycra wearing, big haired Elvi and Pricilli and while it may not always be attractive, it is a whole lotta fun. Last year our guests got right into it and had a different Elvis themed outfit for every day. They looked sensational and had a ball!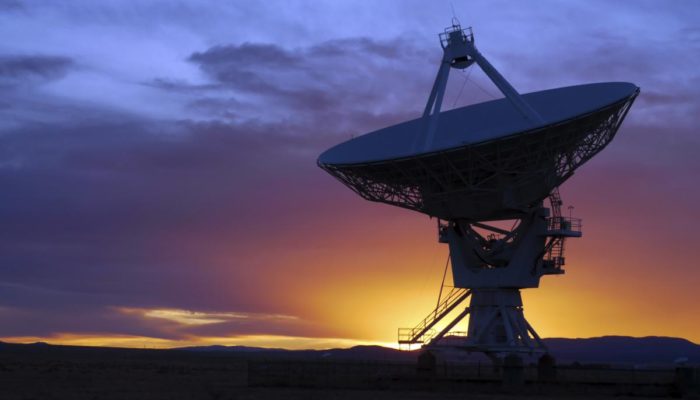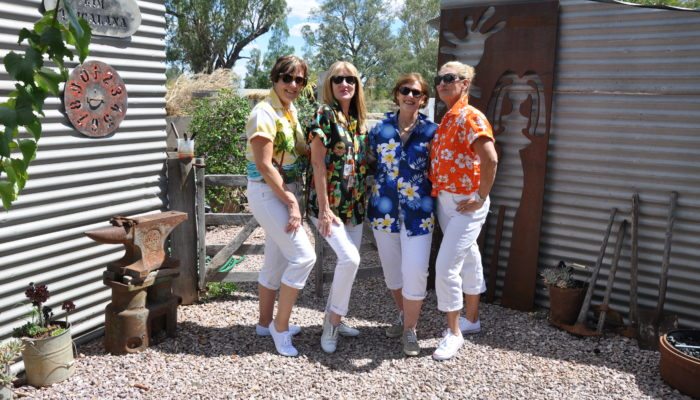 Dubbo:
An hour and a half north will find you hanging out with all sorts of wild things at the Taronga Western Plains Zoo
And if this image doesn't make you just want to jump straight into your car and get there, I'll be a monkey's uncle – or maybe aunt.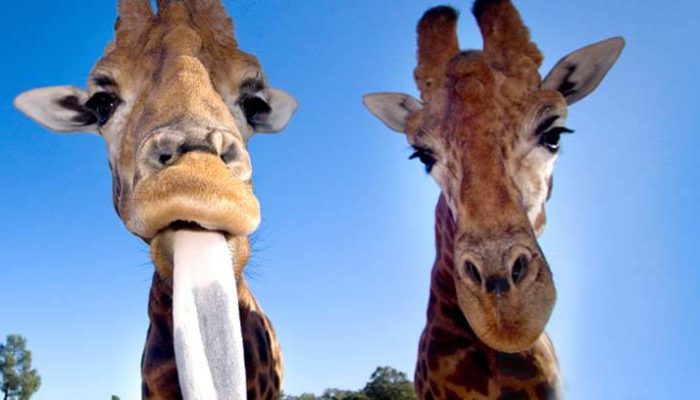 Eugowra:
Heading east from Girragirra for around 30 minutes will land you in Eugowra, scene of Australia's largest gold robbery and Bushranger central! My word they know and love their bushranger stories, both tall tales and true and have had a lot of fun painting the town from top to bottom with heritage related murals.
Eat Your Greens function centre sits beautifully on what used to be the greens of Eugowra golf club – a clever play on words for a very popular wedding / party venue. We just love waving brides off knowing Jess and Ben will make their special day even more so.
Nangar National Park is just a few Km further east of Eugowra and a fabulous place to go bushwalking, painting, camping and to spot about a gazillion kangaroos and wallabies doing their thing in the wild. You will not come home without seeing one, promise!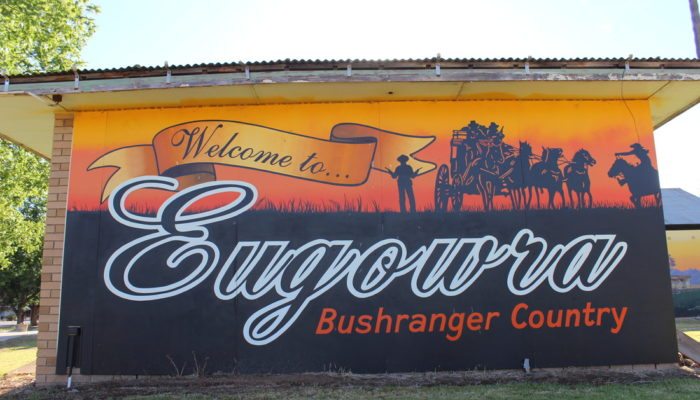 Canowindra:
Arty, sciencey and a very pretty bit of country, that's how we see Canowindra. Lots of galleries, quirky cafes and a beautiful historic town centre make the 45 minute drive well worth it
And how about this? A local grader driver accidentally dug up a load of pretty amazing fish fossils some years ago, amazing enough for for this legend to head Down Under and check them out at the Age of Fishes Museum. So worth a visit!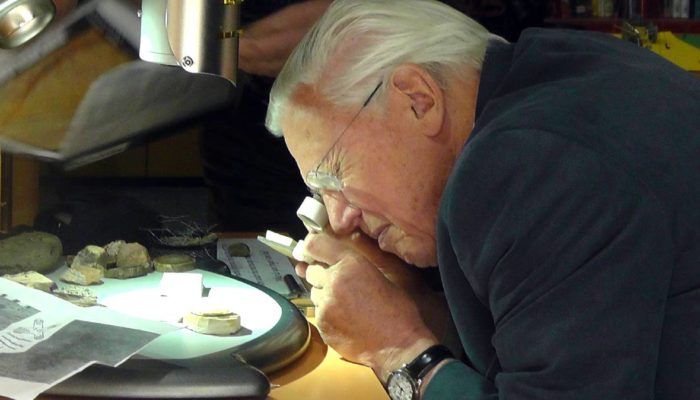 Then there's hot air ballooning – jump on board for a joy flight or head over for their annual festival, usually in April. We really love the idea of a balloon ride…..
Yet another thing to do in Canowindra is a spot of wine tasting. With plenty to choose from, our personal fav is the offering from those very excellent growers of many thing organic Rosnay In fact we stock our mini bar with a selection of their wines and enjoy the odd glass ourselves.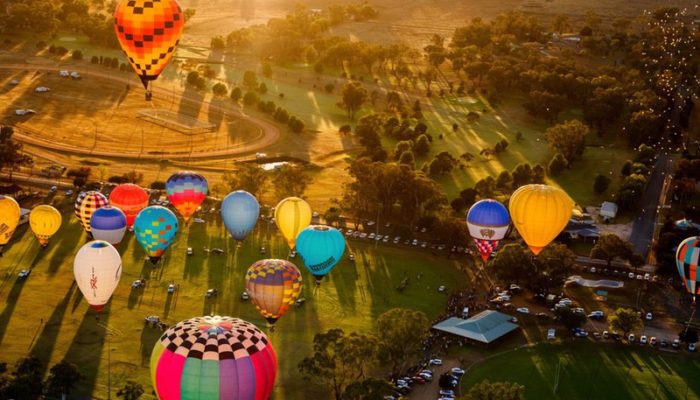 Orange:
Everyone knows Orange is foodie central in this neck of the woods and at just an 80 minute drive from Girragirra it's a fun day trip.
Renowned for the delicious, creative events of F.O.O.D Week, you could almost say every week is food week in Orange with a choice of great cafes and smart restaurants to pair with a plethora of cellar doors where you can taste quality cool climate wines.
Orange is a beautiful city, particularly in autumn when the streetscape comes alive with glorious autumn tones in the  street plantings and gardens. Culturally there's always a lot on offer too with a Regional Gallery and Civic Centre.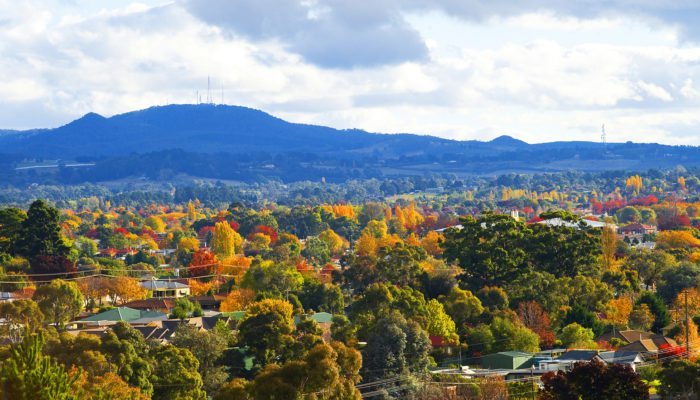 The two "T"s:
Trundle, a 45 minute drive north west of Forbes and Tullamore, a further 20 mins on are quintessential country towns with the kind of community spirit that means they thrive rather than just survive.
Both host Festivals with Tullamore turning bright green for it's Irish Festival every April. Trundle, as well as hosting a Bush Tucker Day in September embraces all things Swedish Europop in May. Their ABBA Festival attracts thousands, all channeling their inner Dancing Queen togged up in flares and sequins. You just have to be there, you really do!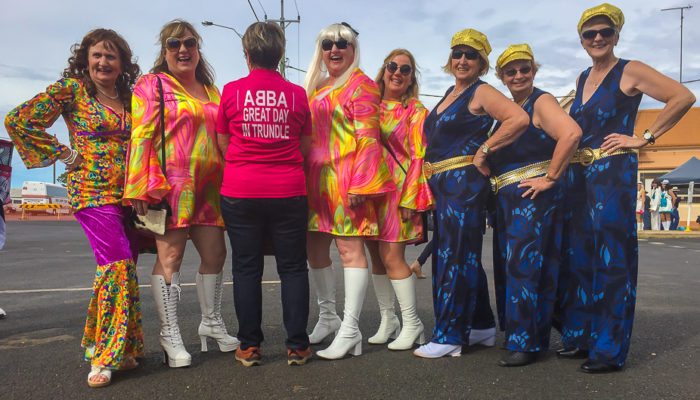 Condobolin:
Around a hour north west, Condo deserves a visit. This truly is big sky country where the red dirt plains give you a sense of the vastness of the true "outback". It's also home to the Wiradjuri Study Centre, constructed with the express purpose of promoting the study and understanding of Wiradjuri culture.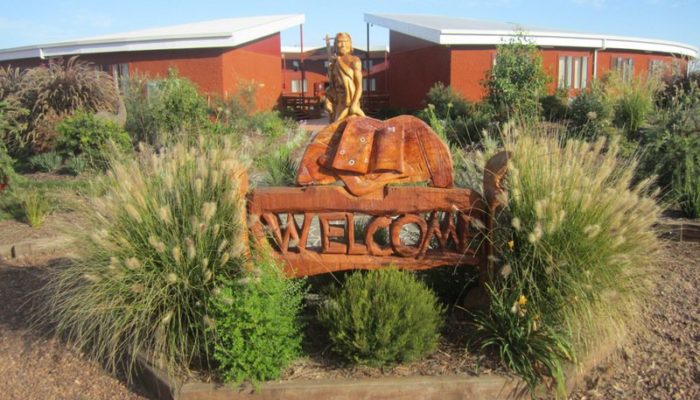 Ootha:
On the loop to or from Condo the Utes in the Paddock installation is a must see. In a quirky, fun tribute to outback life, 20 iconic vehicles (only Holdens!) have been given a creative makeover. Admire Utezilla, the Emute, the TribUte, and Dame Edna on the 'loo'. Then come home to Girragirra. You'll be all right, really you will!
Grenfell:
This pretty little town about 45 minutes drive due south has wisely maintained much of its old world character.
Grenfell
staged its 59th Henry Lawson Festival last June – a huge achievement due in no small part to the diversity of entertainment on offer. Art and photography exhibitions, short story and verse competitions, a colourful street procession, children's rides, street entertainment including busking and live music, and car show are just a few of the wonderful events taking place over the festival weekend. All this from a town with a population of around 2,000!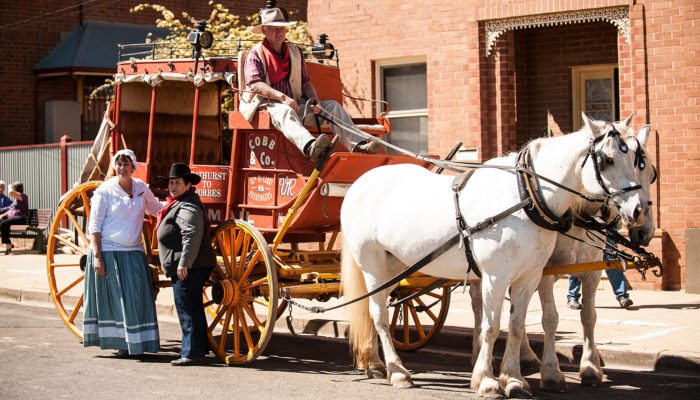 Then there's the Weddin Mountains National Park about 40 mins west of Grenfell. With it's scenic views and colourful walks, the park is ablaze with wildflowers in Spring and the perfect spot to do some bird watching. So worth a visit.