Somewhere beautiful, productive, inspiring – a place where everyone who comes to Girragirra will enjoy wandering, picking, eating, learning. That's what we wanted and we're getting there!
So many talented people had a hand in the design of the Girragirra garden, each of them responding creatively to the Permaculture philosophy on which the whole Girragirra project has been developed. So for starters a big shout out to Milkwood , Earth Integral and Outscape for the education, inspiration, plans and ongoing assistance.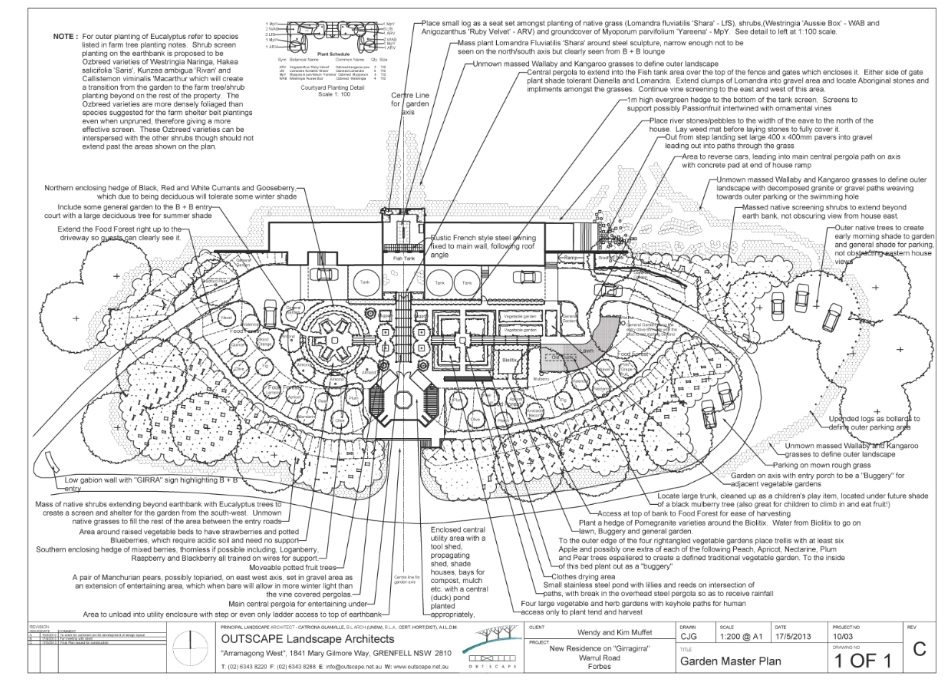 Creating a beautiful space where we can grow an abundance of food organically was and remains both a joy and a challenge. There's just so much to learn…and do. But we're getting there and that's exciting and it seems like there are quite a few of you along for the ride. That's even more exciting!
Living on the floodplain of the mighty Lachlan River as we do meant putting a flood bank in place to protect us. Looking at the plan you can see the bank is shaped like a boat, offering minimal resistance to the flow of the floodwater. That bank's also a very excellent place to plant fruit trees and other productive plants. It's a developing food forest in fact. Now that's an exciting concept to get a hold of. Click here for resources on food foresting including a podcast.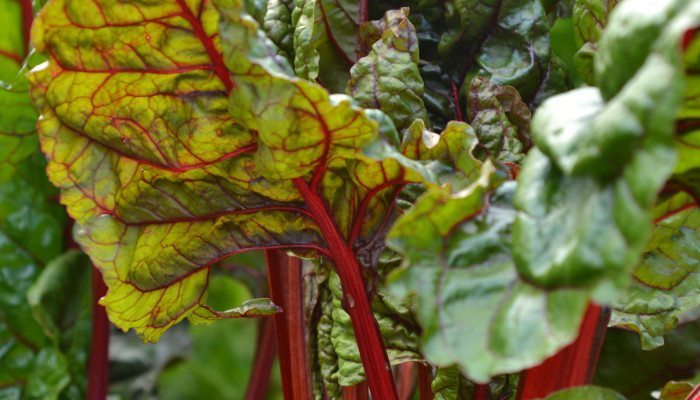 Hand cut into the bank, bang on contour at about 30cms deep and then back filled with woodchips (no need for gym membership here) you'll find a series of small paths called mini swales. Apart from giving access, these clever little bits of permaculture design catch and store rainfall, releasing it slowly and gently downslope, through the topsoil. The woodchips decompose over time, creating compost which can then be dug out onto the forest garden. Winner!
Down on the flat we've developed more garden beds full of veggies and espaliered fruit trees and a whole lot of annual and perennial plants that support them by attracting beneficial insects or as dynamic accumulators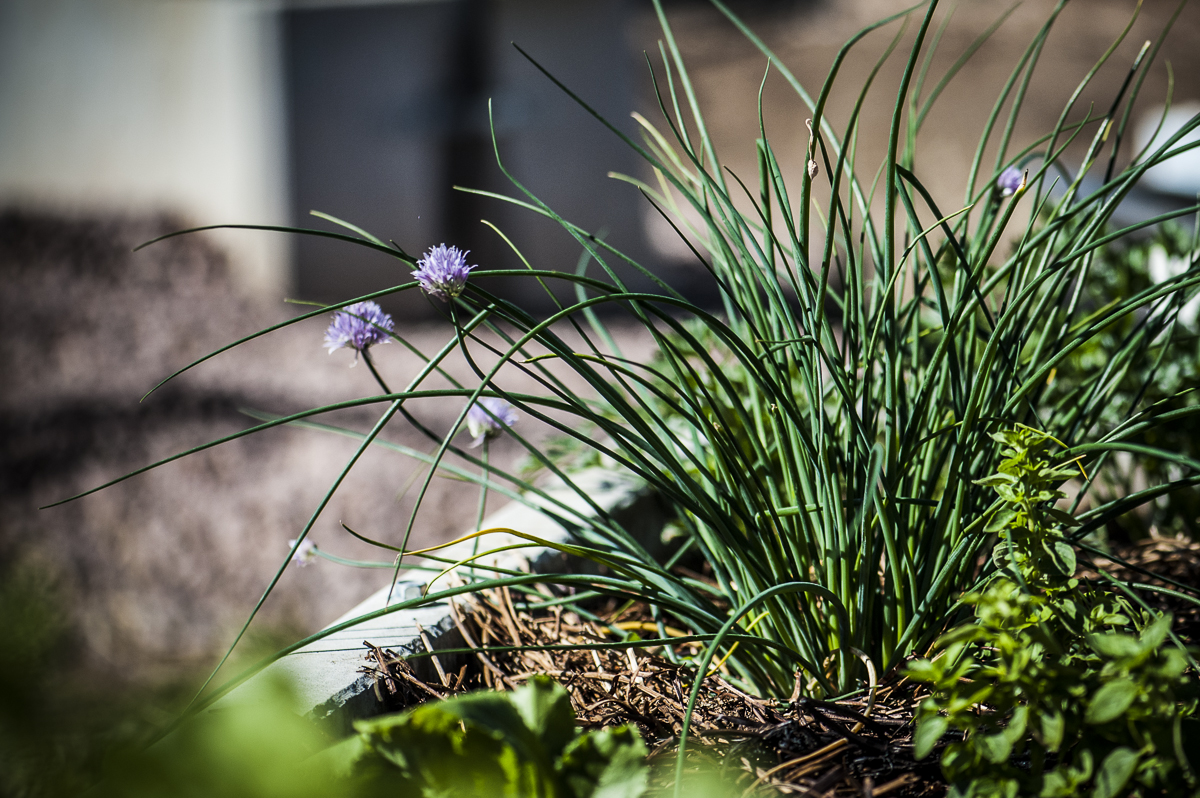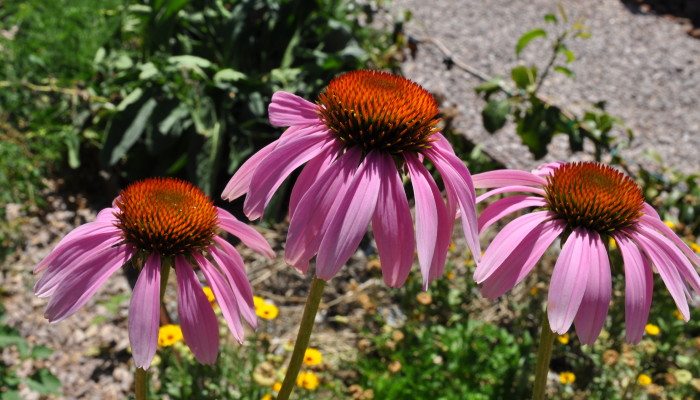 We've popped in a few wicking beds for a number of reasons and running right through the middle of it all we have pergolas built out of recycled timber and steel. They support grapes and my goodness haven't they done well. Not only are they providing very welcome shade but they're showing off big time in terms of yield.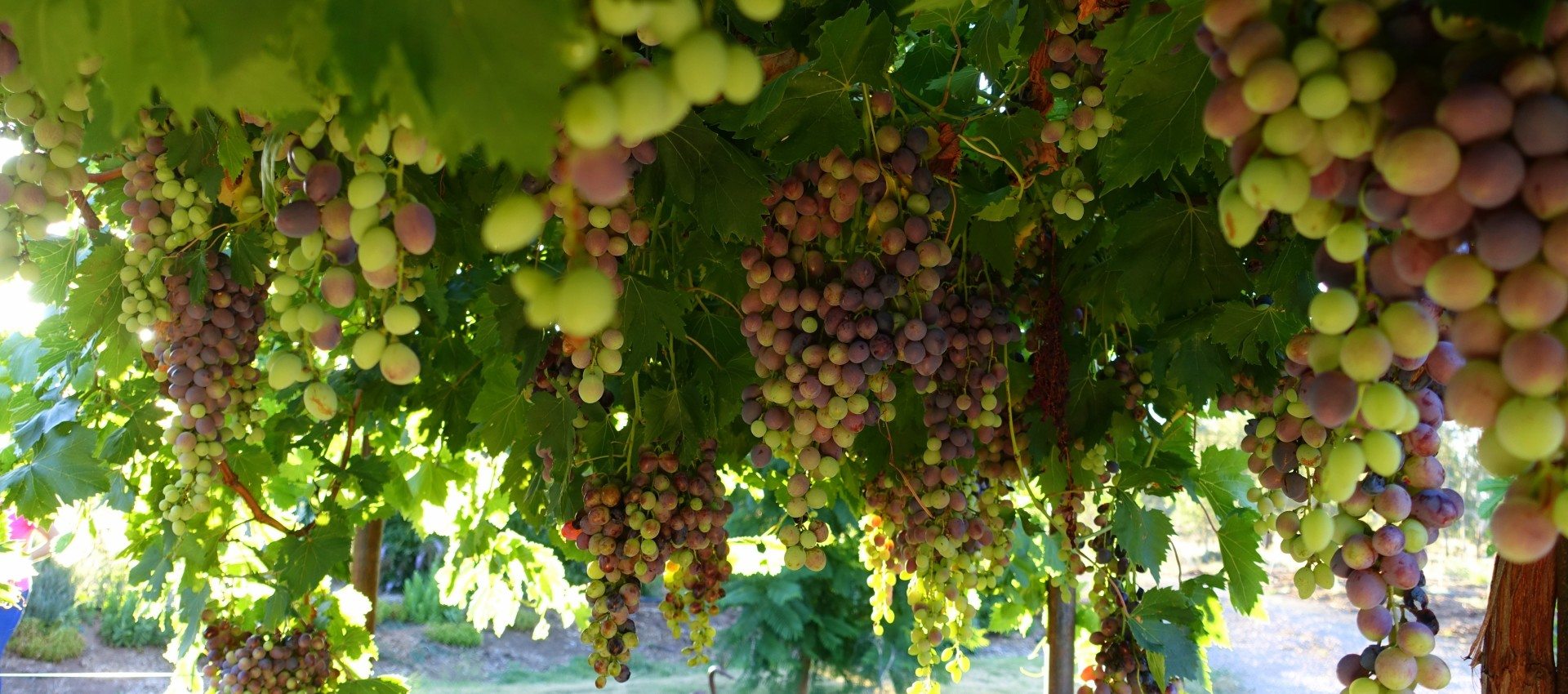 Gravel pathways minimize weeding and maximize infiltration of that precious meagre rainfall we receive. They act as a mulch, keeping the water where it belongs – in the soil and accessible. Lulu reckons they make great tracks for hide and seek too!
You'll see a couple of big worm farms where most of our organic waste – non chook friendly food scraps, shredded office paper, garden clippings, cardboard and so on gets recycled
You may just see a few mysterious looking, weird smelling drums and buckets filled with Scruff's various potions of compost tea and liquid manure too. They don't smell great but they work a treat along- side nutrient rich water from the fish tank and chook poo from the ChookVan to keep the plants pumping.
So how's it all coming along? After 2 or 3 years the fruit trees are settling in and so far we've had an abundance of delicious figs, quinces, grapes and every kind of veggie imaginable. Some of them definitely belong in the "science experiment" category but that's what happens when you have a son who's a pretty creative chef and thinks Girragirra is his own private research station.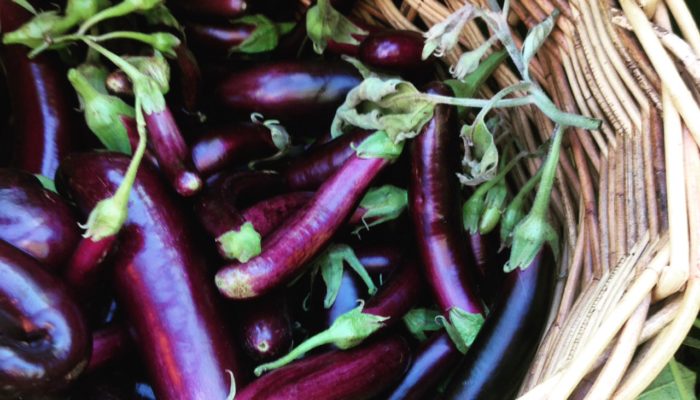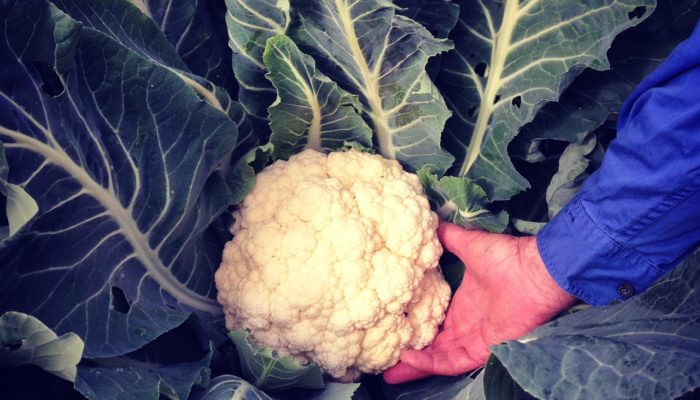 We'll blog about the what, how, where and when in the garden as the seasons unfold. If you'd like to follow along you can sign up for the Blog here. We'd certainly enjoy your company!