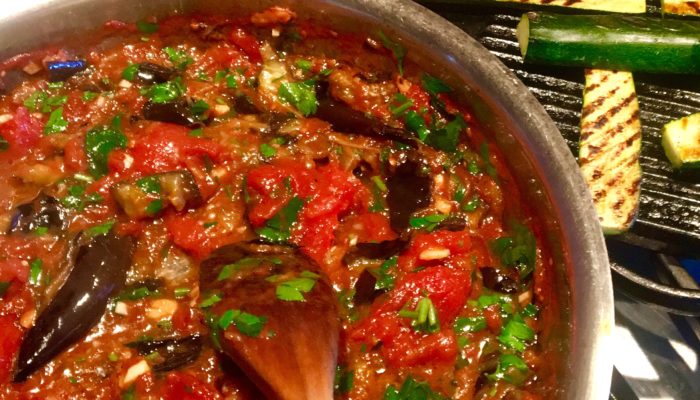 It's that time of year when the Summer veggies are really cranking.Tomatoes, sun ripened and delicious, eggplants looking gorgeous in their shiny, shiny purple coats and the zucchinis… look out, I'll be poking them under your front door soon!
This is one of our fav ways to combine that tasty trio. Although to be honest, the zucchini is a bit of a ring in for a traditional Zaalouk, so feel free to leave it out.
You Need:
1 large eggplant or say 6 small Lebanese slim ones
6 small zucchini
1 1/2 cups of chopped tomatoes
3 cloves of garlic, minced
1 teaspoon of salt
3 tablespoons olive oil
3 tablespoons chopped parsley
2 teaspoons sweet smoked paprika
3/4 teaspoon ground cummin
a pinch of chilli flakes or cayenne pepper
1 tablespoon fresh lemon juice
freshly ground black pepper.
Method:
Char grill or roast the eggplant until it's soft inside. Scoop out the flesh and mash to a puree if its a large one or just chop as finely as you like leaving the skin on for the small Lebanese version. Treat the small zucchinis in the same way if you're using them.
Mash the garlic to a coarse paste with the salt. Add to a deep fry pan or broad based saucepan along with all the other ingredients except the lemon juice and pepper.
Cook over moderate heat, stirring occasionally until all the liquid has evaporated (about 10 minutes). Stir in the lemon juice and season with black pepper.
This salad is delicious served hot or at room temperature. We often add a cup or so of cooked chickpeas at the end to make a more substantial meal or serve it with one of the flat breads or as a side dish.