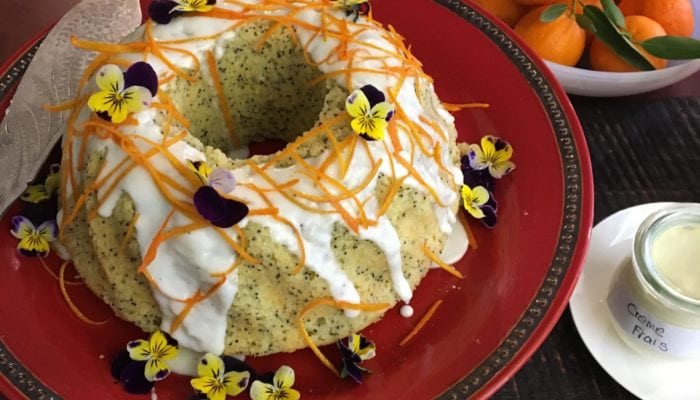 Who can resist a morning coffee with the occasional treat on the side?
Not me! And I can tell you that 99% of the fun tribe who turn up to our workshops can't either.
Cruising the Girragirra garden seeking cake inspo for last weekend's  sourdough workshop found me raiding the citrus trees and the edible flower patch. That old 90's classic the orange and poppy seed cake was the end result… with a few tasty mandarins and almonds on the side for the strong willed. They were still sitting pretty at the end of the day!
You need:
A greased kugelhopf pan (about 25cm across the top). See the tip below.
1/2 cup freshly squeezed orange juice (peel the rind from the orange first)
1 extra tablespoon orange juice
1/2 cup natural yoghurt (or sour cream or creme frais)
1/4 cup poppy seeds
250g of butter at room temp
1 1/4 cups caster sugar
2 tablespoons finely grated orange rind
4 eggs
2 1/4 cups plain flour
2 1/2 teaspoons baking powder
1 cup icing sugar
Method
Preheat the oven to 160C.
Combine the orange juice, yoghurt and poppy seeds in a bowl
Beat the butter, caster sugar and orange rind in a large bowl until pale and creamy
Add the eggs, one at a time, beating well after each egg until just combined.
Sift the flour and baking powder over the egg mixture. Add the yoghurt mixture using a large metal sponn to fold until just combined.
Spoon the mixture into your greased pan and bake for an hour or until a skewer comes out clean.
Allow the cake to cool in the tin for 5 or so minutes then turn out onto a wire rack to cool completely.
Cut the orange rind into thin strips. Combine the icing sugar with your extra tablespoon of orange juice to make a smooth paste. Pour the icing over the cake and decorate with the orange strips. Go wild with any edible flowers you may have in the garden 🙂
Tip:
A very dear family friend told me many moons ago to place my cake pan into the freezer after greasing it to prevent cakes sticking. Leave it there while you do the rest of the business and pull it out just as you need to fill it. Works for me!
ot me!